CSM Arthur Rowland
Arthur John Rowland was born in 1879 at Upper Dovercourt, Essex to labourer George Rowland and his wife Sarah.
George died in 1883 when Arthur was still a young child and in 1887 Sarah remarried farm labourer George Deeks
At the age of 11, in 1890 Arthur followed his stepfather to become a farm labourer.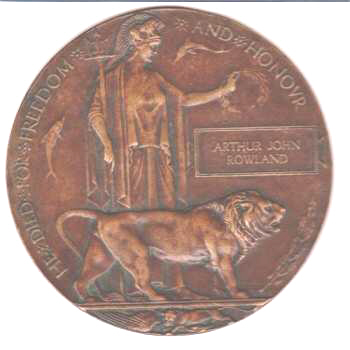 The Memorial Plaque of Arthur John Rowland courtesy and copyright of Gary Orr
Arthur joined the First Essex Battalion and his first experience of overseas war with them was arrival at Gallipoli on 25 April 1915.
Arthur fought his way through Gallipoli and France becoming Company Sergeant Major.
CSM Rowland was awarded the Military Medal for bravery in the field. This was announced in the London Gazette on 11 October 1916 so we hope that he was aware of the award before his death.
On 18th October 1916 the 1sr Battalion were holding the front line after beating off a German attack when they were relieved to move back to Bernafay Camp.
This move took place platoon by platoon over two days.
During this move Lt A P M Chawner and CSM Rowland visited Brigade HQ. As they were outside the HQ they both received fatal injuries.
CSM A J Rowland died from wounds on 21 October 1916 and is buried next to Lt Chawner at Bernafay Wood British Cemetery, Montabauban.
Sadly for CSM Rowland they were amongst the last deaths attributed to the big Somme Push of 1916 as offensives on both sides would soon be put on hold as the winter set in.