Colne Valley and Halstead Railway Company
The Colne Valley Railway was opened in 1860 to run from Chappel to Halstead. Over the next few years the line was extended to Castle Hedingham and on to Haverhill in Suffolk.
The line was one of those that was closed in the 1960's.
Like all similar enterprises many of the staff joined the services at the start of World War One of which five were killed during their service.
Those who fell include two members of the Essex Regiment.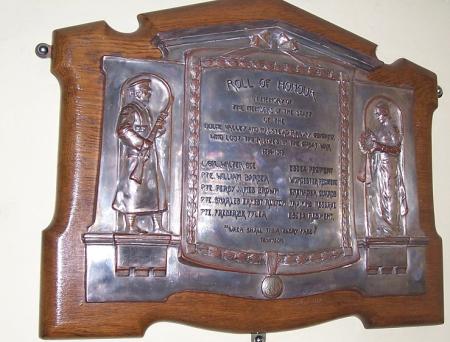 Photograph and information about the memorial courtesy of Carol
A memorial was erected in the waiting room of Chappel Railway Station which is now better known as the East Anglian Railway Museum at Chappel.
Lance Corporal Walter Coe of the 9th Battalion Essex Regiment - Killed at the Battle of Loos on 23 October 1916 aged 25
Private Frederick Tyler of the 9th Battalion Essex Regiment - Killed at the Battle of Arras on 11 July 1917 aged 24
Private William Barber of Worcester Regiment
Private Percy James Brown of Grenadier Guards
Private Charles Ernest Rulton of the Training Reserve